Events and Company Updates
SecureWorld Charlotte | March 4th
Thousands of organizations across the globe are experiencing "hunt fatigue" when it comes to finding cyber talent. Most don't even know where to start. In this session, Cyber security and Technology recruiting industry expert, Matt Donato, will discuss the various challenges organizations are facing when it comes to hiring top cyber talent and how you may need to rethink your recruitment strategy.
Location / Room: 212AB
CyberConnect Series -- Charlotte's Premier Event for Cyber Security Professionals March 15 2018
Join us on March 15th for the third collaborative event hosted by HuntSource and Rocus Networks. Guest speaker Jeff Chapman, CEO of Babel Street, will be here to discuss Open Source Intelligence and Cross-Lingual Search. The event will take place at the WeWork Offices at 615 South College Street (9th Floor) from 5:30 pm – 8:00 pm. Please RSVP by March 8th, 2018.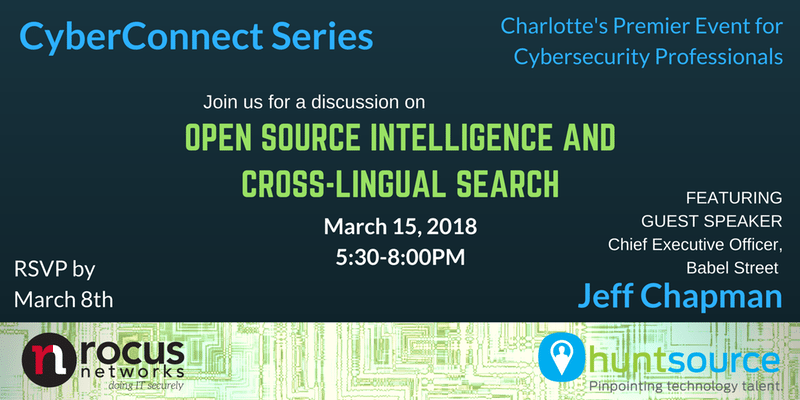 Cybersecurity Impact Awards | May 14th, 2019
The inaugural Cybersecurity Impact Awards are dedicated to recognizing companies that have corporate or Federal headquarters in DC, Maryland and Virginia for their leadership and innovation within the cybersecurity industry. HuntSource is very proud to be a sponsor of this kick-off event and Matt Donato our Co-Founder and Managing Partner will be a presenter.
Date: Tuesday, May 14th 2019
Time: 5:30pm – 8:30pm
Location:
SPACES – The Artisphere
1101 Wilson Blvd, 6th, 8th, and 9th floors
Arlington, VA 22209, USA
Cost:
Deadline: April 15 – $199
NC TECH's State of Technology Conference
NC TECH's 2019 State of Technology Conference will explore Cyber Security and how it impacts all facets of our lives, and look to future trends and how we can prepare ourselves.
More than 600 security, IT and business leaders from across sectors and functional roles will gather May 10 at this flagship tech conference for a day of engaging keynotes, interactive panel discussions, a fast paced pitch competition from tech startups and an exhibit showcase.
Matt Donato will be on the panel discussing the Cybersecurity Talent Gap-Can You Find the Right Security Team? In this breakout they will talk about the current state of today's cyber workforce and ways to address the shortfall in talent.
When:
May 10, 2019 @ 8:00 am – 2:30 pm
Where:
Raleigh Convention Center
500 S Salisbury Street Raleigh
NC 27601
CyberConnect Healthcare Series
When: February 12, 2019 @ 5:30 pm – 8:00 pm
Where: WeWork
615 S College St
Charlotte
NC 28202